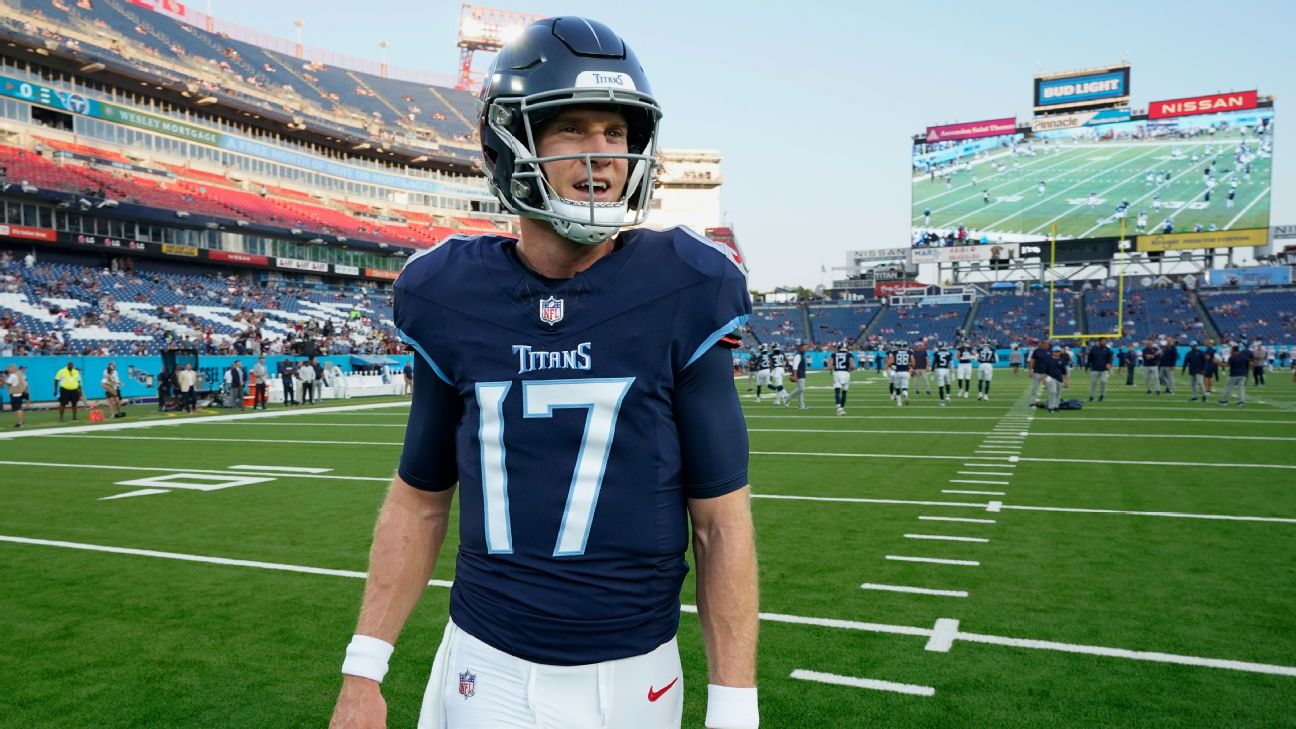 NASHVILLE, Tenn. — Ryan Tannehill's frustration with his performance in Sunday's loss to the New Orleans Saints hit a climax Wednesday.
"Guys, I just want to move on to San Diego [Los Angeles Chargers]," Tannehill said. "I'm not going to answer any more questions about what happened Sunday. I'm not happy about it. No one in this building's happy about it, but at the end of the day, it's over.
The Tennessee Titans quarterback completed 16 of his 34 pass attempts for 198 yards and three interceptions in a disappointing 16-15 loss to the Saints. It was the third time that he had at least three interceptions in a game since becoming the Titans' starter midway through the 2019 season.
To make matters worse, unlike those other games, Tannehill failed to connect with any of his pass catchers for a touchdown and only completed 47.1% of his passes, which was the lowest percentage of his career in Tennessee.
"It's a sick feeling in your gut," Tannehill said after the game.
The sick feeling resulted from more than just statistical shortcomings. He missed multiple opportunities to get the ball to open receivers for big plays.
The first came on the initial drive, when Tannehill rolled out to his right and saw Nick Westbrook-Ikhine coming open on a wheel route. Saints defensive end Cam Jordan was closing in, but Tannehill had time to make the throw. He managed to avoid Jordan before getting tackled by another Saints defender.
Tannehill has made many throws before with a defender closing in on him. Perhaps the most popular of those came in a 33-30 win over the Jacksonville Jaguars in Week 2 of the 2020 season, when Tannehill — just prior to getting blasted by a defender — launched a beautiful 18-yard touchdown pass to Adam Humphries.
Tannehill said he felt really good mentally and was ready to roll entering the season opener, but his decision-making seemed to be off and he appeared uncomfortable in the pocket and uncharacteristically out of rhythm at times.
An example came on a play in which Tannehill was sacked. The Titans were in empty formation and DeAndre Hopkins had an in-breaking route where Tannehill was supposed to throw the ball to a spot before the receiver made his cut. He normally makes that throw with no delay, but a slight hesitation by Tannehill allowed a defender to get close and forced him to run into his offensive lineman before getting sacked.
Two other mistakes came in the fourth quarter. New offensive coordinator Tim Kelly dialed up a perfectly timed flea flicker that freed up Chigoziem Okonkwo for what should have been an easy touchdown. Tannehill, however, slightly overshot Okonkwo for an incompletion.
On the next series, rookie running back Tyjae Spears was wide open down the sideline, but Tannehill overthrew him as well, costing Tennessee yet another likely touchdown.
"Ryan has to be better," Vrabel said. "We have to hit guys that are open, and we can't force the ball into double coverage."
Vrabel also said the offensive line has to give Tannehill cleaner pockets.
"I told Ryan to keep slinging it," Titans right guard Daniel Brunskill said. "Some of those were on us. Defenders were in his face when he was trying to make a throw and it's not easy to step into a throw and beam it to the sideline."
Despite the loss and tough performance, Tannehill still believes he can bounce back. He said it was painful to watch the film but, between Sunday and Monday, he watched it at least five times.
"I'm totally confident in myself and my abilities and the guys around me," Tannehill said. "I think that's what it comes down to — trusting yourself, trusting the guys around you, and then being able to make those plays when they come."
Tannehill made some good throws to Treylon Burks, Westbrook-Ikhine and Hopkins in the middle of the field, and Vrabel thinks the 35-year-old Tannehill will be fine.
"He's been a great competitor for us," Vrabel said. "He's been unbelievably tough and determined and I am positive those results will be different."
Tannehill and the Titans will look to get back on track Sunday when they host the Chargers at Nissan Stadium in Nashville.