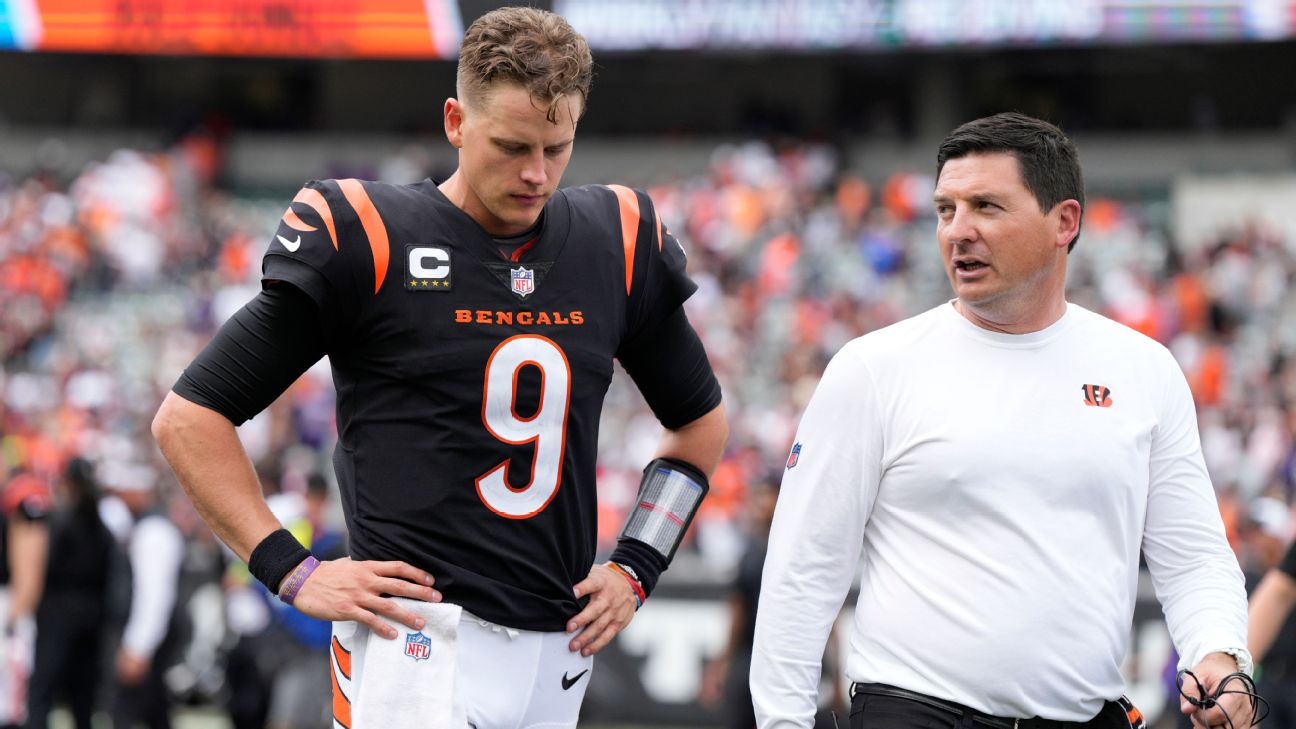 CINCINNATI — Bengals quarterback Joe Burrow said he aggravated his strained right calf during Sunday's loss to the Baltimore Ravens.
Burrow was seen limping and treating the calf on the sideline late in the team's 27-24 loss to Baltimore as the Bengals fell to 0-2 for the second straight season. Burrow and coach Zac Taylor both said he would have gone back into the game had the Bengals received the ball one more time.
But the severity of the injury will remain uncertain.
"I'm not sure how it's going to feel the next couple days," Burrow said. "It's pretty sore right now. No telling how it's going to feel. So, I think we're going to take it day by day."
Burrow said he "tweaked it a little bit" on the team's final offensive drive of the game. He said it occurred on an incomplete pass to wide receiver Ja'Marr Chase in which Burrow was not pressured. On the next play, Burrow rolled to his right, leaped off his right foot and found wide receiver Tee Higgins for a four-yard touchdown pass.
Burrow was 27-of-41 passing for 222 yards, two touchdowns and one interception.
Taylor said that he was in "great shape" as a playcaller despite Burrow's calf issue. Taylor also said Burrow looked "great" in defeat.
"They hold their coverages as long as anybody we play against," Taylor said. "And I thought he saw it really well and did a good job efficiently leading us."
But the calf remains the lingering concern.
"Whenever you have these kind of things, it's always ongoing," Burrow said when asked if the calf could be an issue throughout the season. "It's always something that you're managing."
The fourth-year quarterback out of LSU missed nearly six weeks in the preseason with the strained right calf he suffered in the second practice of training camp.
He said the calf felt "good enough" following the team's Week 1 loss to the Cleveland Browns, a 24-3 defeat. Burrow threw for a career low 82 yards against Cleveland on a wet day that made passing difficult.
Sunday's loss to Baltimore showed improvements, specifically in the second half. He had 187 of his passing yards and both touchdowns in the final two quarters as the Bengals spent the entire day chasing a deficit.
But he also had a crucial interception. In the third quarter, a pass intended for Higgins was intercepted near the end zone by Ravens defensive back Geno Stone.
"Really good play by him," Burrow said. "Good disguise. But I got to see that."
Cincinnati finds itself in a familiar position in many ways. Last year the Bengals dropped their first two games of the regular season and first two AFC North contests, including a loss to the Ravens. Burrow was still recovering from an emergency appendectomy at the beginning of last season.
After the most recent loss to Baltimore (2-0), Burrow said it's tough to start fast when the quarterback misses training camp. However, he also said that the Bengals will bounce back from another rough stretch to start a season. Higgins, who had eight catches for 89 yards and two touchdowns, said he asked Burrow about the calf and Burrow "said it was nothing."
Higgins held an optimistic outlook as Cincinnati awaits to see how Burrow feels ahead of the Week 3 game against the Los Angeles Rams on "Monday Night Football."
"I'm pretty sure he could push through it," Higgins said. "We've seen him push through injuries multiple times. It's Joe. He's mysterious. You never know what he's going to do."