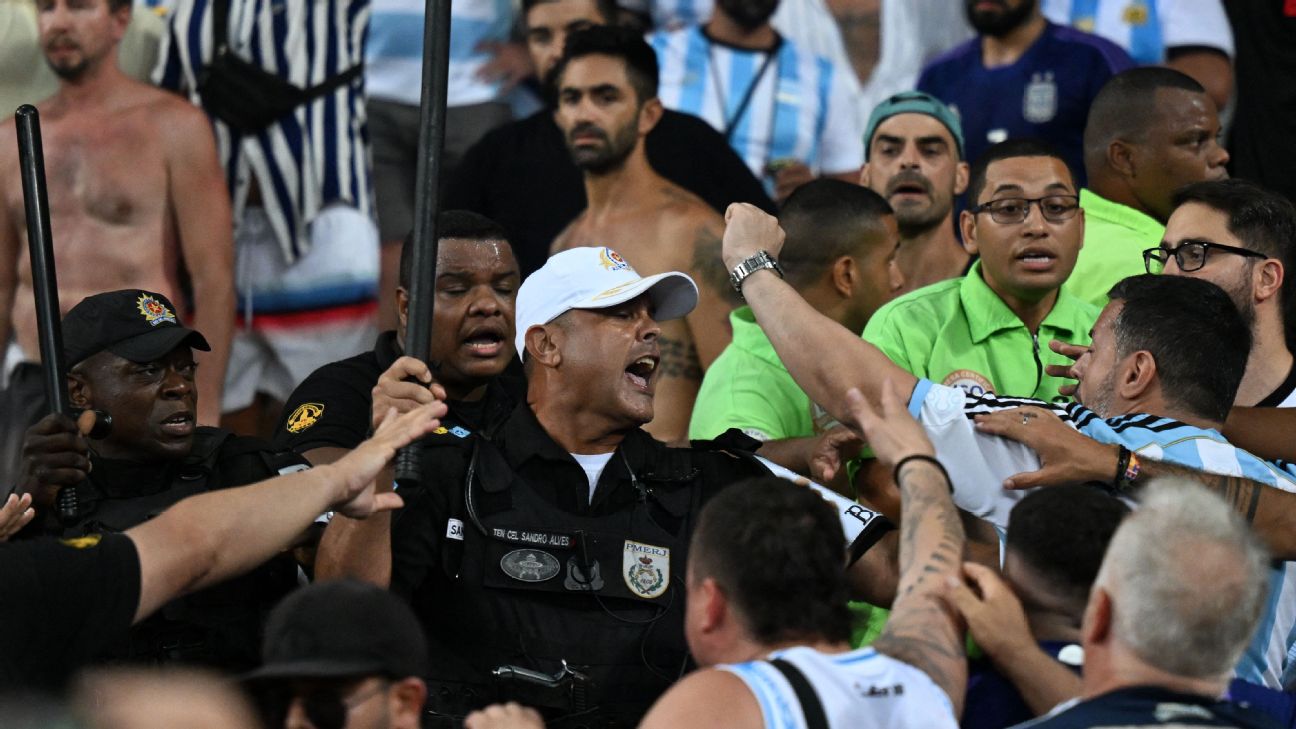 The Brazil vs. Argentina Conmebol World Cup qualifier at Maracana Stadium on Tuesday night was delayed by almost 30 minutes after clashes between the police and fans in the stands in Rio de Janeiro.
Locals and Argentinian fans started fighting during the playing of the national anthems, prompting the Brazilian police to charge the visiting contingent with batons. Fans responded by ripping up and throwing seats at the officers.
Fans near the trouble panicked and came onto the pitch to escape the fighting. At least one injured fan was taken from the stadium on a stretcher.
Argentina players asked those in the stands for calm before Lionel Messi led them back to the dressing room. Argentine goalkeeper Emiliano Martínez raced to one of the rails in front of his team's fans to ask police to stop the violence.
¡Partido retrasado😥!

😡 Por incidentes en la tribuna, el Brasil vs Argentina se encuentra detenido.#EliminatoriasSudamericanas #RumboAlMundial #Argentina #Brasil pic.twitter.com/2eyGSOwmL0

— Telemundo Deportes (@TelemundoSports) November 22, 2023
Argentina told their Brazilian rivals they would only return to the pitch after the situation was calm. They returned after 22 minutes in the dressing room and warmed up for another three minutes before the game was finally started.
As the match began, dozens of policemen surrounded Argentina fans as they cheered, and even more security faced them on the pitch. Police gathered around the section that can hold about 3,000 fans.
All 69,000 tickets for the match were sold. Brazil fans, who jeered and applauded Messi before the brawl began, chanted against him when he returned to the pitch.
Brazil players remained on the pitch and warmed up while waiting for the Argentina team to return.
Before the encounter, many Brazil fans warmed up to the Argentine star, with dozens of children wearing Messi jerseys of his previous club Barcelona and Inter Miami.
Argentina lead South American World Cup qualifying with 12 points in five matches. Brazil are in fifth position. Both teams lost their previous games in the round-robin competition of 10 teams.
The Associated Press and Reuters contributed to this report.